We are delighted to share a case study of WWS athlete Carter Taylor, developed in conjunction with Scottish Disability Sport
The video highlights the good practice demonstrated by coaches nationally and demonstrates that waterskiing and wakeboarding are sports with an inclusive ethos that are accessible to all throughout Scotland.
NTS Redevelopment Officially Opened
Click on the picture above for the full story and more pictures
Blair Fraser…………World Wakeboard Champion
Waterski & Wakeboard Scotland the Governing Body for the sport in Scotland are delighted with the news that Blair Fraser a rider at Foxlake Adventures won the men's open features competition and came second in the junior men's open event at the recent World Wakeboard Association, World Wakepark Cable Championships in Abu Dhabi.
Blair's dedication and commitment plus his natural ability has paid off with this magnificent result, he will go down in the record books as the highest placed Scot in this type of event and his success is clear testament to his early years spent at Foxlake Adventure's Wakepark in Dunbar.
The Dunbar cable site now in its 3rd year of operation has been the catalyst for Blair's success, the professional approach with clear progression pathways from participation to podium taken by the fully qualified coaching team at Foxlake is exactly what we at the Governing Body are keen to promote and fully support.
With the launch of our 2016 -2020 Strategic Plan later this year and the continuing support from sportscotland we hope to see more Cable Wakeboard Sites opening up throughout the country and as a result, more riders participating and many more Scots on the podium.
Water Skiing Mourns One of Its Greatest Champions – Andy Mapple OBE 1962-2015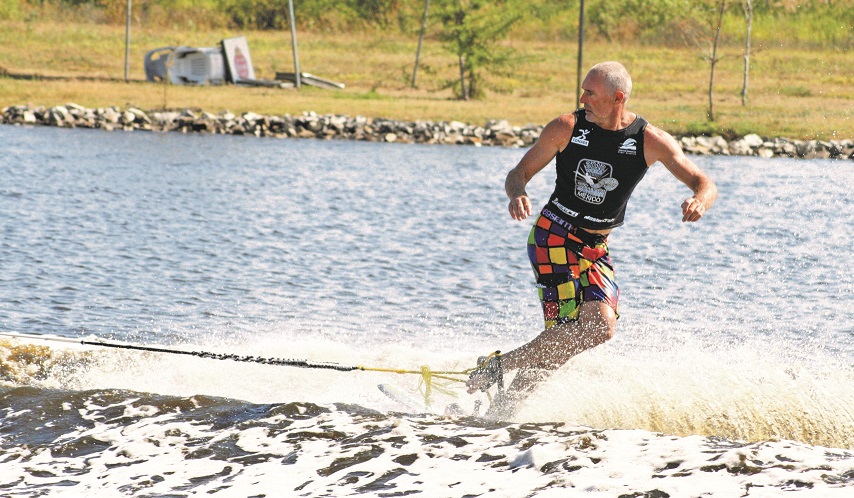 It is with great sadness that we hear of the tragic and untimely death of Andy Mapple, one of Great Britain's greatest, best known and best loved water-skiers. Andy was an inspiration to most and a friend to all - he will be sadly missed. Our thoughts and heartfelt condolences go out to his family at this difficult time.
New Tower fitted for our Wakeboarders
Equality Policy Statement
Waterski & Wakeboard Scotland endorses the principle of sports equality and will strive to ensure that everyone who wishes to be involved in waterskiing and wakeboarding and all other disciplines and activities of our sport and governed by us whether as casual participants, team members, volunteers, coaches, office-bearers in clubs or those within Waterski & Wakeboard Scotland………………….
Has a genuine and equal opportunity to participate to the full extent of their own ambitions and abilities, without regard to their age, sex, gender identity, disability, marital or civil partnership status, pregnancy or maternity, religion, race, ethnic origin, socioeconomic status or sexual orientation;
Can be assured of an environment in which their rights, dignity and individual worth are respected, and in particular that they are able to enjoy their sport without threat of intimidation.